Salvador Dalí illustrated some of the most beautiful literary, mythological and religious texts, paying homage to Dante, Rabelais, Cervantes, Lewis Carroll, Malraux, and many other masterpieces of the literary artwork.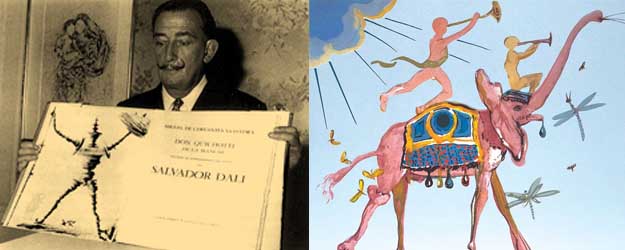 Dalí produced his first illustrations in Paris for the literary publications of the surrealists. In 1934 he illustrates the new edition of Chants de Maldoror. This was one of the highlights of his career as an illustrator.
In 1956 the publisher Joseph Forêt commissioned Dalí to create lithographs to illustrate Cervantes' novel, Don Quixote. True to form, Dalí took an experimental approach, shooting bullets of colour at the lithographic stone at point blank range, and dipping snails into the paint so that they would then leave trails as they crawled over the stone.
Salvador Dalí expressed his own surrealist vision of the universal themes of poetry and literature through this vast collection of images, characters and allegories. Dalí revealed himself as a consummate master of the graphic arts, constantly developing his technique, his drawing and his colours.
SEE MORE